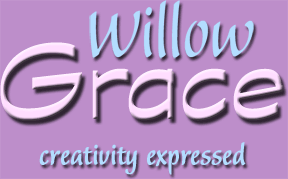 Piano Hinge Journal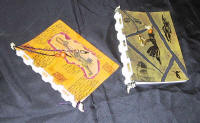 (click on image to view larger size)
Supplies:
2 sheets cardstock
20 sheets text weight paper
Paper Cutter, the Fiskers 12" is best if you have it
Scissors or an Exacto Knife and cutting mat
Pencil
Ink Pads for Direct-to-Paper technique
Collage Style Stamps
Wire Cutter or heavy duty scissors, if you have one
2 24" pieces of Fiber, string, waxed linen, embroidery floss or yarn
8 10" Skewers
Beads and/or charms
Instructions:
For the Covers:
-Cut each cardstock 7 Ύ" x 11. Fold in half to measure 7 Ύ" x 5 ½". Decorate.
For the Pages:
-Use 4 sheets of text-weight paper per 'signature'. Cut pages to 7 ½" x 11". Fold in half to measure 7 ½" x 5 ½".
-Make 5 Signatures.
-Using template, cut 'V' shaped notches out of all 5 signatures and both covers.
Book Construction:
-Starting with the cover, insert the skewer into the first bottom tab. Push the skewer IN FRONT of the second tab so the tab is BEHIND the skewer. Insert skewer up into the third tab. Repeat this process, threading the skewer through every other tab until you reach the top of the book. The skewer will be though the 1st, 3rd, 5th and 7th tabs, with the 2nd, 4th and 6th tabs behind it.
-Lay the first signature behind the cover, matching notches. Insert the skewer into the center of the bottom tab. Then insert the skewer into the center of the second tab of the COVER. The second tab of the signature will be pushed behind the skewer. Go back into the 3rd tab of the signature and again into the forth tab of the cover. Repeat to the top ending with the skewer in the centerfold of the second signature. The 2nd, 4th and 6th tabs should remain open behind the skewer.
-Keep adding signatures in this fashion until all are done.
-Attach the back cover in the same way. The very last skewer will be inserted into the 2nd, 4th and 6th open tabs of the back cover.
Weaving the Fibers:
-Starting on the top front, weave the fiber in and out of the skewers to the back, then back to front and repeat. Knot. Be sure to leave about 3"-4" of fiber hanging to attach beads/charms.
-Weave the bottom fibers, this time starting from the back, weave in the same fashion. Knot. Add a dab of glue to knot, let dry then cut fiber close to knot.
-Trim skewers with wire cutters. Sand if needed.
© madretz 2005